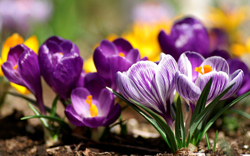 We want to share with you a beautiful and bright collection of bone china cups with cheerful spring design! Let us celebrate spring together!
       *   *   *
For winter's rains and ruins are over,
And all the season of snows and sins;
The days dividing lover and lover,
The light that loses, the night that wins;
And time remembered is grief forgotten,
And frosts are slain and flowers begotten,
And in green underwood and cover
Blossom by blossom the spring begins.
Algernon Charles Swinburne  (1837–1909)
Atalanta in Calydon (1865)