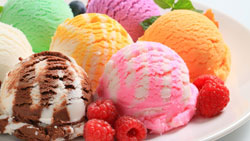 So incredibly delicious! Ice cream…. Isn't spring is the best time to taste this frozen treat?
You may buy a ready ice cream or make it at home. It is surprisingly easy to make. Add chopped candy, crumbled cookies, nuts, and chocolate, jam, fruits and berries, extracts, liqueurs, and flavoring oils. Be creative!
Make ice cream as easy as 1, 2, 3...
Ingredients:
3/4 cup of white sugar

1 cup of heavy whipping cream

2 1/4 cups of milk

2 teaspoons of vanilla extract
Instruction:
Stir sugar, cream, and milk into a saucepan over low heat until sugar has dissolved. Heat just until mix is hot and a small ring of foam appears around the edge. Remove from the heat.

After removing from the heat, add the sugar and salt to the scalded milk.Stir the scalded milk until sugar and salt are completely dissolved.

Add half and half, vanilla, and whipping cream. Stir until well blended.

Transfer cream mixture to a pourable container such as a large measuring cup. Chill mix thoroughly, at least 2 hours.Speed cooling process by placing the bowl in an ice water bath.

Once the mixture has cooled, cover with plastic wrap and allow the mixture to age in the refrigerator for at least 4 hours or up to 24 hours. This aging process will give the mixture better whipping qualities and produce ice cream with more body and a smoother texture.

After aging (chilling) the mixture, remove from the refrigerator and stir the mixture. The ice cream is now ready for the freezing process.

Transfer the ice cream mixture to a freezer safe bowl or container if not already in an appropriate one. Cover tightly with plastic wrap, foil or an airtight cover.

Place the container in the freezer and allow the mixture to freeze for 2 hours.

Remove from the freezer and beat with a hand mixer to break up ice crystals that are beginning to form.Cover and place back in the freeze.

Freeze for 2 more hours and then remove from the freezer and beat again with the hand mixer. The ice cream should be thick but soft to scoop. If it is not thick enough, return it to the freezer for additional freezing time.

Serve and enjoy!